About Me
Hello, my name is Sue Shepard and I am a Licensed Marriage and Family Therapist (License #LMFT37470). I have operated my private practice in Orange County for over two decades and my office is centrally located in Costa Mesa, CA.

Being a therapist is actually my second career. I worked for IBM as a Business Analyst for 14 years prior to becoming an MFT. I was financially successful, but I did not feel like I was making a difference. When IBM started their massive layoffs in the early 90's, I was forced to make some decisions for my future. I had worked my way into my current position without an education and I knew that I would not be able to find another job unless I earned a degree. I hurried back to school and completed my B.S. in Business & Management with honors while working full time and going to school full time.

Two days after finishing my last class, I was laid off. I decided that if I had to start all over, I was going to pursue a career where I could make an impact in people's lives. The next week I enrolled in the Clinical Psychology graduate program at Pepperdine University and two years later, I graduated. It took losing my stable job to propel me into taking the necessary risks which allowed me to pursue the career that I was truly made for.

I have experienced several major life challenges and have come out the other side a deeper, more mature and loving person. I truly believe that I cannot help people unless I've done my own personal work and continue to on a regular basis. I am a living example that psychotherapy works and that it is an invaluable tool for human growth, healing, and self-acceptance.

In addition to my private practice, I also taught at Coastline Community College's Acquired Brain Injury Program for 14 years. The ABI Program is a two-year cognitive retraining program for adults who have sustained a brain injury. Each morning I had the opportunity to work with incredible human beings that were working to rebuild their lives after having suffered tremendous tragedies. I taught Neuroanatomy and helped my students to understand the functions of their brain and how it was impacted by their injuries. They taught me about the resilience of the human spirit.

For over a decade, I was also involved as a group facilitator for the Ultimate Leadership Workshop and One-Week Intensive for Counselors multiple times throughout the year. These highly effective workshops were created to accelerate personal and professional growth for ministry leaders, business professionals, psychotherapists, and counselors. These unique one-week intensive program were developed by Dr. Henry Cloud and Dr. John Townsend.
IZZI
In June of 2013, I rescued Izzi and shortly thereafter, she started coming to work with me. She is a 18 pound mixed-breed (vet guesses possibly Australian Shepherd and Papillion) and is as sweet as can be. She doesn't have any special credentials, but she has plenty of love to share. My clients look forward to coming to see Izzi and they say Izzi has a calming effect on them.

MY OFFICE
I am proud to provide a beautiful and relaxed setting for our meetings together. I am confident that you will feel right at home in my office. Most of my clients can't wait to kick off their shoes and get comfortable. Imagine sitting in a safe, comforting, and confidential environment with someone who truly cares for your well-being.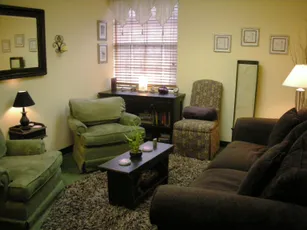 My counseling office is centrally located in Orange County near the 55, 73, and 405 freeways. I provide therapy in my Costa Mesa location which is just minutes away from Irvine, Newport Beach, Corona Del Mar, Huntington Beach, and Tustin. For address, map and directions, please visit the Contact Me page.